The China Factory Audit service is designed to bring you full confidence in your suppliers before entering into contracts.
We help you substantiate the various claims made by suppliers as well as analyze the capabilities of potential suppliers.
A factory audit is usually carried out once the "supplier identification & shortlisting" process is complete and is an On-Site form of due-diligence especially on a new supplier.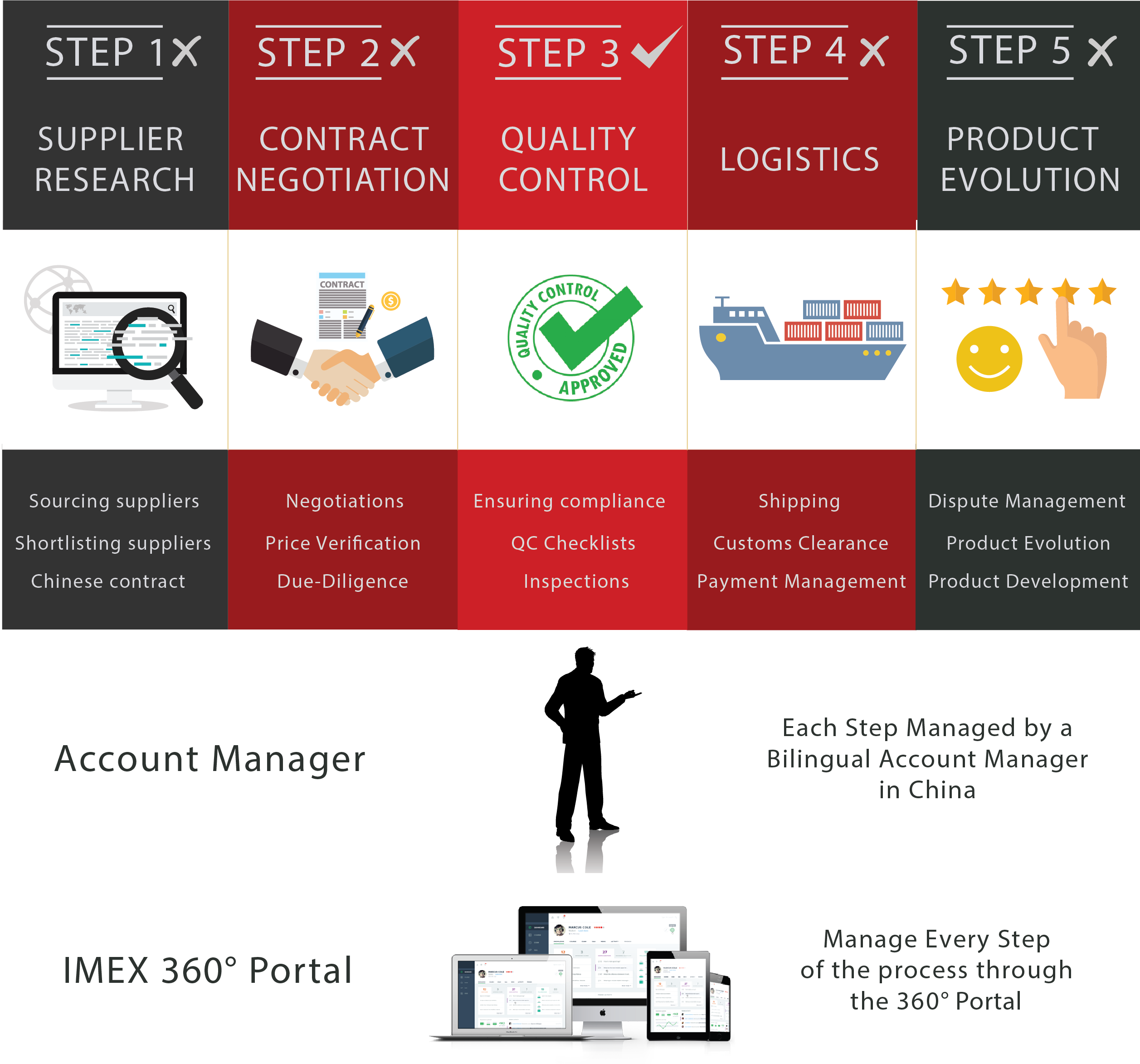 The 360° Sourcing Process
*The services mentioned above are part of the 360° Sourcing Process, not of the China Company Verification Service.
Arranging a visit to the supplier's premises – to ensure that the company is physically located there and carrying out an audit of their factory & production lines. This is done by trained auditors.
Verifying Their Identity
Checking & verifying the company's contact info and talking to their representatives
Verifying the identity of the legal representative of the supplier
Checking the relevant registration certificates of the company and checking the validity of these documents with the relevant departments to ensure that they are genuine.
We strongly recommend you carry out a "Company Verification" before proceeding with a factory audit in order to keep the costs low, as a company verification report is a quick and low-cost way to shortlist suppliers before investing money on a factory audit.
Checking Their Competency
Reviewing the factory's production processes, such as Welding, SMT, Testing & Assembly.
Evaluating the factory's annual and seasonal production capabilities.
Evaluating the factory's export experience and capabilities, for e.g. checking export licenses as well as understanding the mix of domestic sales Vs. exports.
Checking & Evaluating the factory's manpower resources i.e. total number of workers, workers per production line, number of admin and sales staff, number of people in management, etc.
Ensuring Top Quality
Verifying the existence of internal QA/QC Procedures and identities of relevant managers.
Checking third-party certifications, such as ISO certifications.
Evaluation of the factory's working hours and other working conditions of workers.
Checking company's product documentation such as "quality control checklists" or "lab testing documentation".
And many other reliability & existence checks are also available.
A report in PDF Format is submitted within 72 hours of the factory audit being completed.
Why IMEX Sourcing Services?
Safety: Our trained auditors ensure international audit procedures are followed and strict standards applied to all audits
Experience: Our experience of various industries as well as that of dealing with Chinese manufacturers adds further value to the audit process
Auditor Network: IMEX has an extensive network of auditors covering most major industrial cities of China which enables us to carry out audits in most parts of China
Reporting: Get a detailed audit report in PDF format covering various aspects of the audit along with pictures & our recommendations. Our factory audit report would enable you to select & maintain a high-quality supplier base.
Speed: A Factory Audit can be scheduled within 48 hours in most cases