It's never been easier to find suppliers in today's Internet age. However, this easy access has also opened up possibilities of sub-standard goods or quality issues which can lead to serious losses or damage a brand's reputation.
Our Mid-Production Inspection Service (also referred to as During Production Inspection or DurPro Inspection) can greatly reduce this risk for you, especially when it is agreed in advance with the supplier.
When is a Mid Production Inspection Useful?
A DUPRO is useful when you want to check some samples when the first batch of goods have come out of the production line. It allows you to detect quality issues early so they can be fixed before goods are packed and corrective action can be taken on goods that have not yet been put on the production line.
Our Mid Production Inspection is provided both as an ad-hoc service as well as part of the 360° Sourcing Service, which takes care of the entire Sourcing process for you.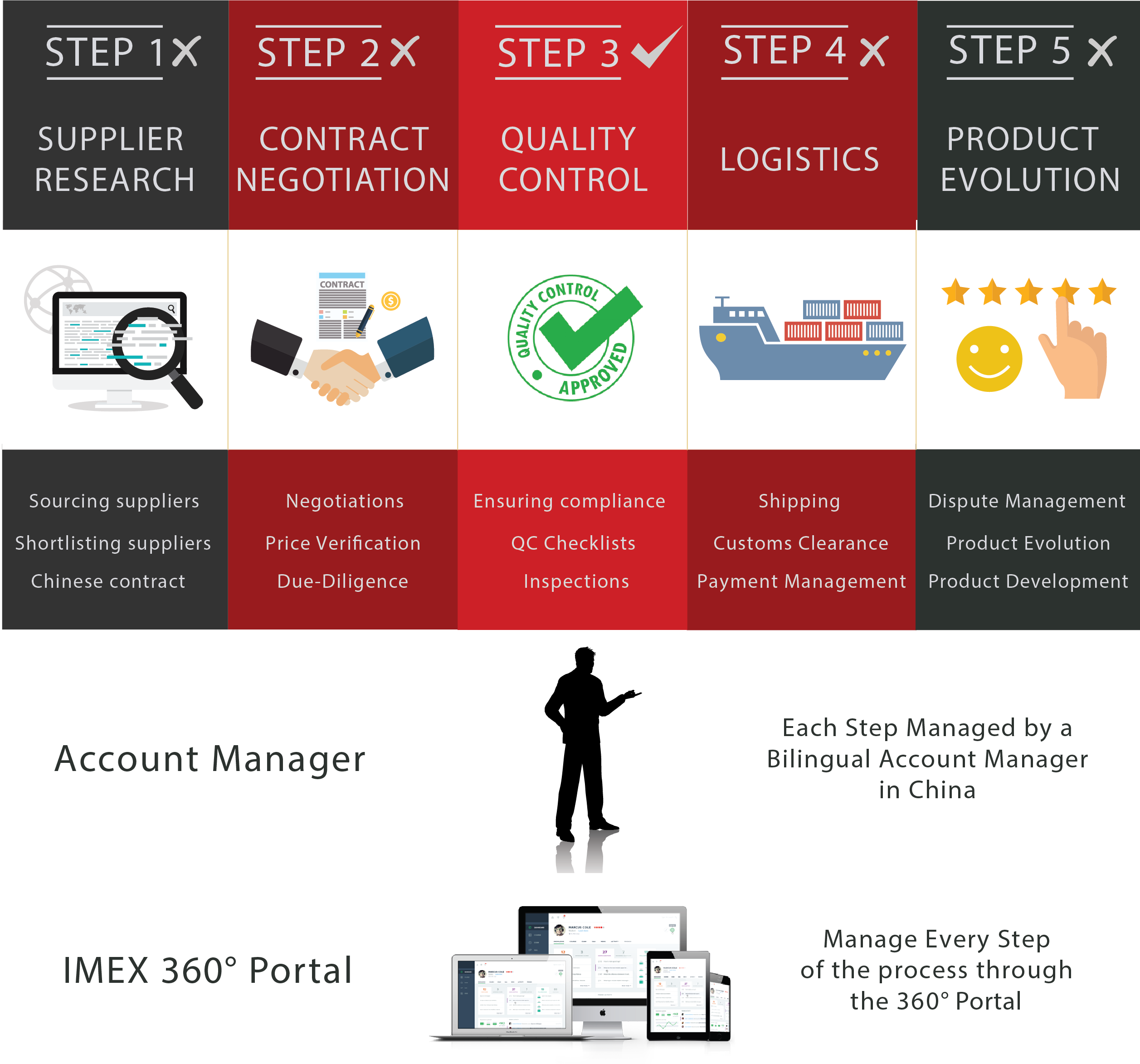 The 360° Sourcing Process
*The services mentioned above are part of the 360° Sourcing Process, not of the Mid Production Inspection Service.
Why IMEX Sourcing Services?
Safety: Our trained inspectors ensure international quality control procedures are followed and strict standards applied to all inspections
Experience: Our experience of various industries as well as that of dealing with Chinese manufacturers adds further value to the process
Service Area: We cover most major industrial cities of China
Sample Collection: We can collect post production samples on your behalf during the inspection & courier them out to you (If Requested)
Reporting: Get a detailed PDF report covering various aspects of the inspection, pictures & our recommendations, so that you can decide on your course of action for the shipment
Speed: A PSI can be scheduled within 48 hours in most cases
Quality Standards: We use internationally recognized AQL levels for all quality inspections. Clients can also set their own acceptable quality tolerance levels (As agreed with their suppliers).
Reference Samples: We always encourage our clients to send a "reference sample" wherever possible, as it tells the inspector exactly what the product should look like and how it should function.