Want to work for a rapidly growing international trade company with a focus on e-commerce sellers and experience the vibrant & dynamic culture of China at the same time?
Our Story
IMEX Sourcing Services was started out by me (Ash Monga) with just one team member from my apartment over 6 years ago. Since then we have doubled our turnover almost every year and changed 3 offices and on the verge of moving to our 4th Office in April 2017, each time doubling up in space. It's been an exciting ride to say the least and phenomenal growth.
Before I go off track, let's get back to the Position & Company. (You can read more about what we do & the Journey here).
We are primarily a Product Sourcing & Quality Control company working with clients across the globe but mainly in the US & UK. We help our clients manage their imports from China.
Majority of our clients are "E-Commerce" sellers especially Amazon focused sellers, so that's our little Niche within the sourcing industry. However, we also work with more traditional importers, like wholesalers & distributors.
We provide them with a completely outsourced solution managing everything from supplier search, shortlisting and selection, due-diligence, contracts, project management, quality control and even logistics – delivering the goods right to their warehouses or Amazon FBA Fulfilment centers.
We share our experiences and lessons in the Sourcing Industry at TheSourcingBlog.com
Recently, we have been spreading our wings as a company and adding new dimensions to the company as well as playing a more active role in trying to create & contribute to bringing new innovative physical products to the market by running the Guangzhou chapter of Hardware Massive.
While we have been around for over 6 years, we are still a small company with a team of about 12 people which we aim to expand to 20 by the end of 2017 and we believe the "Project Manager" would play an integral role in achiving this objective.
The Position
Responding directly to the General Manger, you will be responsible for efficient execution of projects in different departments (but primarily Sourcing) and be responsible for ensuring all resources are garnered, stakeholders taken on board & projects completed successfully and on-time.
Some of the key activities for this role would be:
To oversee the timely & efficient execution of all "sourcing projects" carried out by the Account Managers.
To help the general manager achieve business goals and objectives by breaking them down into projects and further into small actionable tasks and delegating those tasks to the right people.
To carry out Research into various aspects of our industry (Sourcing & International Trade), such as our competitive positioning, pricing, etc. as well as other ad-hoc research work.
To garner resources and work with various stakeholders in order to achieve the deliverables on various projects.
To help develop and refine our internal systems and processes.
To work with and help the general manager complete ad-hoc initiatives from time to time.
Assigning new sourcing projects to relevant Account Managers, ensuring balanced workload between different Account Managers.
Ensuring all sourcing & QC procedures are adhered to and taking action when they are not adhered to.
Helping with content writing.
The Requirements
This position is only open to Native English Speakers.
Should be located in China or willing to move to China for an extended period of time. Its important you look at this as a Long-Term position and not a Stop-Gap role.
A degree in a technical area is preferable (but not required). For e.g. Engineering, Maths/statistics, Project Management, etc.
Speaking Mandarin would be a positive but is not required for this position.
Minimum work experiences of at least 2 years.
Experience in Project Management would be a huge advantage.
Experience in content writing would be an advantage
Ability to work independently with minimal supervision and ability to make "Quick Decisions".
The Lifestyle
This position offers an Exciting opportunity to work in China. You will be working very closely with our team in our Guangzhou, which is the third largest city in China & one of the main centers of international trade activity. This is where the bi-annual Canton Fair, the largest trade fair in the world takes place.
It's a 2-hour train ride away from Hong Kong and about the same time to Macau. There is easy connectivity to key Expat hubs in Asia, such as Thailand & Vietnam.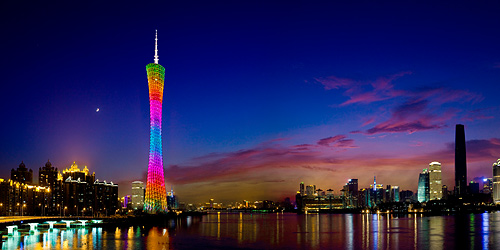 There will also be opportunities to travel from time to time to trade shows or one of our exciting retreats where you will be meeting & working with some very successful entrepreneurs.
What's in it for You?
A competitive Salary.
An opportunity to work in Mainland China.
Mentorship: You will report directly to the Founder & have access to key insights about running & scaling a startup. You will also meet some entrepreneurs, both our clients as well as those part of AMZ Think Tank and have an opportunity to learn how they have built some great businesses.
One of the best parts about this role is the cultural experience of being in a place like China, which has for almost 3 decades been one of the epicentres of global trade activity.
How to Apply
To apply, please ensure you meet the Requirements stated in the requirements section above and fill out our application form here

If you know someone who would be suitable for this position, please help us spread the word.